Readings are done over the phone and are normally 1/2 hour to 1 hour in duration. The fees are as follows: $60 for 1/2 hour and $115 for 1 hour.
Reading types consist of the following:
MEDIUMSHIP: Connecting with loved ones, including animal family members, who have crossed over to the other side. Keep in mind, that although we may desperately want to connect with a specific person, sometimes other friends, relatives and neighbors may make their presence known. The medium really has no control over who comes through, because spirit always knows best in this healing work. However, every attempt will be made to connect with the person most desired.
*Mediumship readings are separate from psychic readings and are not combined. They are strictly used for healing and closure to assist in the grieving process and are not used to look at aspects of your life.*
PSYCHIC READINGS: Love, finances, career, health etc. Looking ahead into the future. The best choices to make at any given time. Keep in mind–when asked to read about another person, there is a privacy factor involved. If there is a good reason for you to know what another person is doing, such as health and safety risks, then that information will surely be given. If, however, spirit does not feel the inquiry is ethical, they will not give out the information.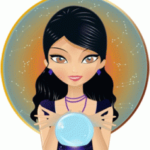 ANIMAL READINGS: Pets are one of our greatest joys in life. Find out what your animal is thinking and feeling. Get help understanding behavioral problems. Learn your pets likes and dislikes. Photographs of the animal work really well here or of course the animal in person, but again it is not necessary.
*You can choose any one of these categories for your reading. Psychic Readings and Mediumship Readings are separate they are not mixed together. However, you can combine Animal Readings within a Psychic Reading.*
For the best possible reading it is best to have an open mind, and be in a private, quiet place, keeping your arms and legs uncrossed so that you do not block the energy or close yourself off. Most of all enjoy yourself! Readings are a positive experience.
See Appointments page to set up an appointment. For your convenience we offer PayPal which also accepts major credit cards.
* Appointments that are not cancelled at least 24 hours in advance, will not be refunded nor moved to another date. You are reserving this time period and it is your responsibility to remember the date.*
***Disclaimer: The advice and information you receive in and through messages is to be treated for entertainment purposes only. No Psychic/Mediumship reading or reader is 100% accurate. Messages you receive are not a substitute for advise, programs or treatment from a licensed medical, psychological, legal or financial professional. Shelley Duffy provides no guarantees, or implied warranties and is not responsible for any interpretations, decisions made or actions taken by clients.